Text & photographs by Dr. Mahadeswara Swamy, Scientist
Spring season,' an intermediate phase between winter and summer signifies the emergence of new life to many deciduous trees. Also, it marks the end of the weird look of barren tree trunks and fallen leaves. Many exotic and native trees begin new life with blooms on the leafless branches, soon covering the whole tree. Thus providing a spectacular floral display. 'Tree of gold' is one such tree, the most  delightful to watch at the beginning of the season itself. Draped all over the crown with a mass of golden coloured blooms, they attract the attention of passersby.
'Tree of gold' is an exotic tree native to South America. Also known as 'Yellow Tabebuia', 'Golden Bell', 'Silver trumpet tree', 'Yellow Trumpet Tree,' its scientific name is Tabebuia aurea (syn. Tabebuia argentea) belonging to the family Bignoniaceae. It is a small or medium sized tree. A soft wooded tree with crooked trunks and fissured  bark is typically contorted with two or three major trunks or branches dominating an asymmetrical crown wrapped in showy silvery-gray foliage.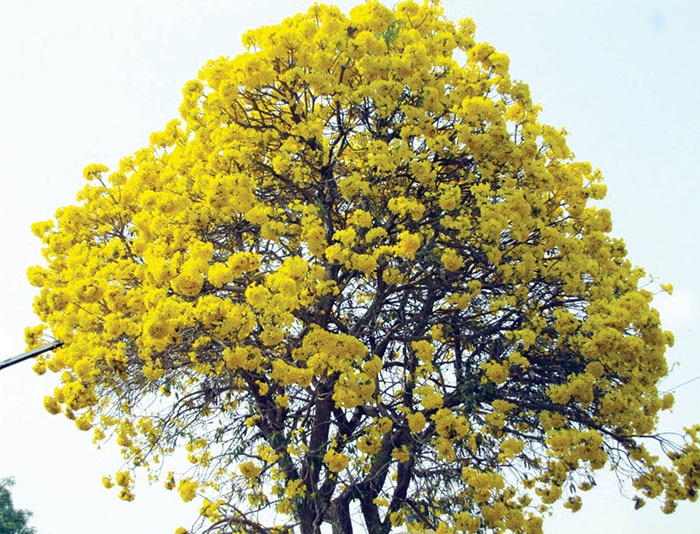 The leaves which look like palms of our hands with 5-7 oblong leaflets, are thick, leathery and covered with minute silvery hairs.    Soon after the leaves fall, the brilliant yellow coloured flowers in the shape of a bell (trumpet) appear at the end of the branchlets. They drape the crown with a mass of gold duly justifying its American name 'Tree of gold.' The flowers last for about 3 weeks. As the flowers start falling, new leaves appear and the tree is attractive even when it is not in bloom. Some trees have an additional shorter period of flowering in summer, but they do not lose their leaves. The pods are about 4"  long and called follicles.
Useful tips
A fast growing tree, it needs full sunlight.
An excellent ornamental tree for parks, small lanes and home gardens.
Looks spectacular in the corner of a lawn.
When planted in groups, the effect is stunning.
Can also be grown on medians on Highways.
Also suitable for containers and to train it as a bonsai.
Trees can be easily propagated using seeds dried on plants. It is better to sow the seeds as soon as they are collected. The old seeds fail to germinate.
A number of bees visit the flowers.
Only drawback is its soft wood which makes it susceptible to damage during strong winds.
The tree is the star attraction during the flowering season. Though this is the end of the season, many late bloomers still provide a spectacular look in various places with a combination of yellow bells amidst the silvery leaves. Watch out in your area.
Mob: 97429-91057   / e-mail: [email protected]